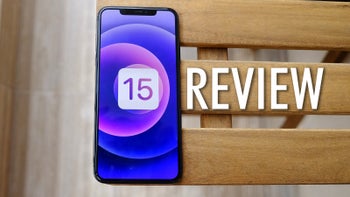 iOS 15 has just been announced at WWDC '21 at a virtual press conference that had Tim Cook and company talk all about the nitty-gritty of the next major iOS update. After last year's paradigm-shifting iOS 14, iOS 15 is yet another quality-of-life update that aims to improve the basics of iOS and enhance the core app functionalities.
iOS 15 will arrive to all eligible device this fall, shortly after Apple announces its iPhone 13 family.
iOS 15 developer beta is available right now. The iOS 15 public beta will be release next month.
iOS 15: The most important new features
FaceTime overwhelming
FaceTime conversations become way more natural, comfortable, and life-like. For one, the essential video-calling app gains spatial audio support, allowing conversations to flow as they do when talking face to face. Another neat new feature is voice isolation, which prioritizes your voice over the surrounding white noise. There's a new grid view and portrait mode when FaceTiming. Finally, SharePlay lets you share experiences while on a FaceTime call, including listening to songs together with Apple Music, watching a TV show or movie in sync, or sharing their screen to view apps together. SharePlay works across iPhone, iPad, and Mac, and with shared playback controls, anyone in a SharePlay session can play, pause, or jump ahead. Some of the most popular media apps, like Disney+, ESPN+, HBO Max, Hulu, MasterClass, Paramount+, Pluto TV, TikTok, and Twitch are the first ones to announce SharePlay support.And finally – Android and Windows users will finally be able to get in on all that FaceTiming actionafter years of waiting for the app to go cross-platform. Well, it didn't, but Android and Windows PC users will be able to get in on a web-based version of the video call, which is a good enough concession on Apple's part.
Notification Summary and Focus bring order in a chaotic world

Notifications are finally getting reworked. Thanks to Notification Summary, a new iOS 15 feature, an endless list of notifications will no longer clutter your lockscreen, making it rather hard to discern between the important and non-important ones. You can set your daily Notification Summary to appear at any time. Instead, iOS 15 will create a personalized bundle of notifications that look neat and don't take as much space. What's more, app icons are now larger for improved legibility, and so are the avatars of any contacts that call or text you.
Another novelty is the new Focus feature that changes your notification preferences and limits your exposure to notifications and apps depending on your setting. For example, if you enable the Do Not Disturb feature on your iPhone, your status will be shown to your contacts in the Messages app. They could choose to respect your status, but if they have something important to tell you, they can opt to override your DND request.
Photos takes a page out of Google Lens' book

Apple's Photos app is taking cues from Google's Lens, scoring OCR (Optical Character Recognition) and allowing you to isolate text from photos, screenshots, and other images in your gallery. That's all to the new Live Text feature, which looks like quite an intuitive and useful addition to iOS, making you wonder why such a feature wasn't introduced earlier. Apple says all text isolation will be done on-device, so no sensitive information will be sent to Apple's servers. Good for privacy.
More iOS 15 features:
Wallet killed the physical wallet

The Wallet app is, for the lack of a better idiom, doing away with your physical wallet–and your keys. After digitizing your credit and debit cards, the app is scoring UWB physical card support, allowing you to lock/unlock select cars and properties with your iPhone or Apple Watch. Digital keys for select new BMW vehicles and automatic keys for rooms of the Hyatt hotel will be available to Wallet users this fall. But that's not all: select US states will let you leave your ID at home and use wallet instead. Simply scan your ID or driver's license and rest assured you can use it everywhere you go without risk losing it. TSA is seemingly also exploring the possibility to let you go through airport security with Wallet only, without the necessity for a physical ID card.
Safari gets redesigned
Safari has scored a big update on macOS, but iOS is in on the action as well. The mobile version of the browser has scored a new tab and lets you find your way between tabs by simply swiping with your thumb. Tab Groups are also coming to mobile Safari, letting you organize important tabs your way.
Health app: shared data in the family
Apple is improving the Health app with new features and you can now see the health data of a kid or an aging parent, and get a notification if a dangerous condition like an elevated heart rate appears, so you can give them a call right away.
Translate getting better and better
The Translate app is steadily getting improved with each and every consecutive iOS update, and iOS 15 is no different in this regard. System-wide translation has finally been added to iOS, iPadOS, and macOS, allowing you to translate any text by simply tapping to select it and choosing the Translate option. This feature works not only with typed text, but with images containing text as well. As a reminder, iOS 15 scored OCR text extraction for images.
Weather redesigned
The ubiquitous Weather app is getting a pretty functional redesign that not only improves the visuals but also scores new functionalities in the form of new graphical displays for relevant weather data. We get full-screen radar maps that display temperatures and precipitation on an interactive map, making it easier to see live weather updates and forecasts for a specific area.
More about the redesigned Weather app is available right here.
Supported devices & relaxed update policy
Here's a list of all devices that will get iOS 15:
iPhone 12
iPhone 12 mini
iPhone 12 Pro
iPhone 12 Pro Max
iPhone 11
iPhone 11 Pro
iPhone 11 Pro Max
iPhone XS
iPhone XS Max
iPhone XR
iPhone X
iPhone 8
iPhone 8 Plus
iPhone 7
iPhone 7 Plus
iPhone 6s
iPhone 6s Plus
iPhone SE (1st generation)
iPhone SE (2nd generation)
iPod touch (7th generation)
The big surprise here is that the aged iPhone 6s family is still supported. What's equally surprising is that Apple won't force users to update to iOS 15 right away as it previously did, but will let them stay on iOS 14 if they wish, which was an unforeseen change of heart.