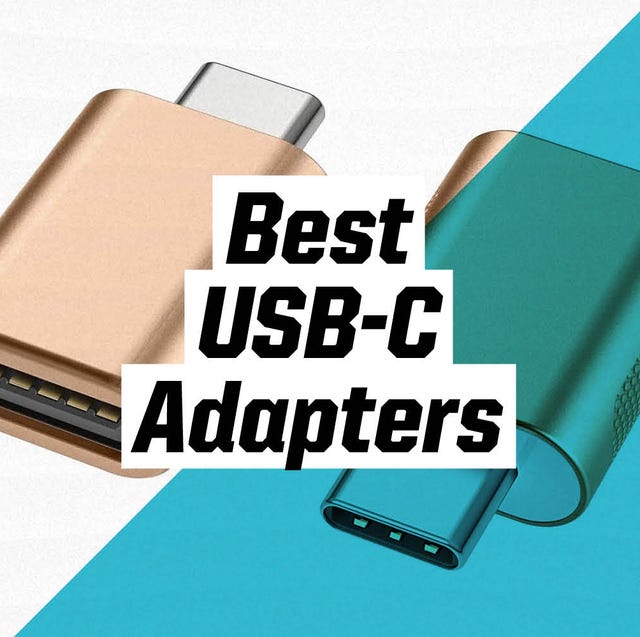 Staff, Courtesy of Nonda
New laptops require new ways to connect old devices. USB-C adapters allow you to connect all (or most) of your peripherals to your computer via a single USB-C port. Use a USB-C adapter (or "hub" or "dock") to connect monitors, printers, MIDI instruments, hard drives, SD cards, modems, and other devices deemed too big for sleek, modern computers.
Of course, not all USB-C hubs are alike. They have different port types and configurations, and they vary in price as much as size and shape. To help you find the best USB-C adapter or hub for your needs, we've compiled a list of the 10 best.
What to Consider
A good USB-C hub will have all the ports you need to connect your devices. It will also take up minimal space and work as intended—that means no weak or flimsy connections and a relatively long lifespan. When trying to determine which hub is best for you, take an inventory of all the peripherals you need to connect, including their specific port types. Look for each type in the hub you are considering buying. Other features include pass-through power, which allows you to charge all your devices and your computer simultaneously; and modular or "snap-on" hubs, which connect directly to your laptop's USB-C port without a cable.
If you're a Mac user, you can opt for a Thunderbolt 3 dock, but be prepared to spend a bit more. If you're just looking to connect a bunch of old USB devices—and don't need Ethernet SD, VGA, HDMI, or anything like that—look for something with a bunch of USB 3.0 (USB-A) ports.
How We Selected
Every peripheral situation is a little different, so in making our picks, we tried to include something for everyone. We combed through user reviews and analyzed a wealth of specifications to identify those that were most likely to deliver on their promise—and to last while doing so.
While price isn't always a guarantee of performance or longevity, cheaply built hubs tend to have cheap parts that disconnect more easily. User reviews can sometimes offer a glimpse into these long-term issues, but not always. For that reason, we tried to offer a range of both inexpensive and high-end USB-C hubs.
Advertisement – Continue Reading Below
1
8-in-1 with pass-through charging
Anker USB-C Hub
A durable, if somewhat sizable hub for most purposes, the Anker PowerExpand 8-in-1 covers all the bases, including the following ports: USB-C (two), USB-A (two), HDMI, Ethernet, SD, microSD. Pass-through charging allows charging of multiple devices up to 85 watts. 
The sole 10Gbps USB-C port delivers ultrafast throughput, and the HDMI output supports 4K video at 60Hz speeds. It also includes a travel pouch and an 18-month warranty, which is longer than many competing devices.
We recommend this hub in particular if you're primarily concerned with network speed and display performance. It's a bit larger than competing models, but user reviews favor its clean design and solid build quality.
4K support
Clean, well-built design
Lots of ports
Larger than similar devices
On the pricey side
2
Display-oriented ports
Dell USB-C Mobile Adapter
With fewer ports and a higher price tag than the Anker 8-in-1, this Dell USB-C hub has ports for almost any display—but within a truly compact and portable design.
One of the standout features is the retractable cable and round design. This is huge for anyone concerned about cord management. It allows you to pack up the hub without your cables getting tangled with one another, and the circular design helps distribute the ends of your connections, rather than clumping in rows like most other docks.
Ports include: HDMI, DisplayPort, VGA, Ethernet, USB 3.0 (type C), 3.0 USB (type A).
Retractable cable
Superior cable management
Lots of display ports
Very pricey
No SD or microSD
3
Best for USB-A Devices
Anker 10-Port 60W Data Hub
If you have a lot of old peripherals on the USB-A standard, this is a great option. While a bit pricier and lacking display ports, the Anker 10 Port 60W Data Hub offers an impressive 10 USB ports—ideal for musicians, artists, designers, and anyone else with a bunch of devices to connect. 
Seven of those ports are USB-A data ports and three are USB-A charging ports. (If your computer only has USB-C ports, you'll need a USB-C–to–USB-B converter cord.)
Anker is one of the more reliable brands when it comes to charging hubs and accessories, and this model includes an 18-month warranty to boot.
Seven USB-A ports
18-month warranty
No USB-C support
A bit pricey
4
Best Budget Option
Hiearcool 7-in-1 USB C Hub
On the more affordable side, the Hiearcool USB-C Dongle features familiar ports in a familiar design at a very competitive price. It includes the following: USB-A 3.0 (two), USB-C, HDMI, SD, microSD. The lack of an Ethernet or VGA port may annoy some people, but we think it's understandable given the low price.
User reviews are largely favorable, save for a few concerns about the reliability of some connections. A few also complain about a short lifespan. Again, these are concerns you'll have to weigh against the attractive price.
Very affordable
4K compatible HDMI
No Ethernet or VGA
Some user complaints about longevity
5
On-the-go connectivity
Kensington SD1600P USB-C Dock
Kensington
amazon.com
$102.70
The Kensington SD1600P combines connectivity and portability in a sleek desktop design. A veritable docking station, it includes the following ports: USB-A (two), USB-C, HDMI, VGA, Ethernet. The port configuration and design makes the SD1600P an ideal station for multiple displays, and with pass-through power, you can charge all your devices and your computer simultaneously.
It's certainly a pricey hub and a bit bigger than most, but its port configuration and power options make it quite the versatile little dock. Bring it with you to an office or coworking space, or leave it at your desktop with excellent options for cable management.
Pass-through power
4K and/or HD display ports
Versatile
Very pricey
No SD or microSD
6
For Mac high-res displays
Elgato Thunderbolt 3 Mini Dock
If you're looking for a Thunderbolt hub, the Elgato Thunderbolt 3 Mini Dock comes in a more affordable package than anything sold by Apple. The ports are sparse for the price, but it's a well designed and highly capable hub for Thunderbolt displays and high-end Mac users.
This Elgato adapter includes the following ports: HDMI, DisplayPort, Ethernet, and USB-A. That's correct: There's no support for USB-C—only Thunderbolt. So this is only an option for Mac users, but if you're looking to connect a high-resolution display for your Mac, then this is a solid choice.
Support for high-res displays
Thunderbolt connection
7
Best for MacBook
Anker USB C Hub for MacBook
This Anker hub is all about expansion. It connects via the two adjacent USB-C ports found on modern Macbooks, snapping on like a modular brick. The sleek, compact design is perfect if you're concerned about space or loose cables.
Included in this Anker USB C Hub are seven ports: USB-A (two), USB-C, multi-function USB-C, HDMI, SD, microSD. The multifunction USB port allows for charging power up to 100 watts, and with pass-through charging you can charge all of your devices and your Mac simultaneously. An Ethernet port would be nice to see, but with Anker you also get that 18-month warranty. It's a give-and-take.
Pass-through charging
Multi-function USB-C
Modular connection design
No Ethernet
Uses two Thunderbolt ports
8
No-frills USB-C to USB
Nonda USB C to USB Adapter, 2-Pack
If you're just looking for a cheap and easy way to connect a single USB device to your modern Macbook, look no further. This adapter features a USB input on one end and a USB-C output on the other.
Obviously, you can't use this adapter to connect high-res displays or other peripherals, but it does allow you to connect any USB device to any USB Type-C port—be it a Macbook, Samsung Galaxy, or even a Nintendo Switch. It's simple, cheap, compact, and comes in a two-pack (although you cannot connect two of them in adjacent Mac Thunderbolt ports).
Simple and compact
Very affordable
Two-pack
No display compatibility
Can't use side-by-side ports on MacBooks
9
Snap-on hub for Mac or PC
Satechi Type-C USB 3.0 3-in-1 Combo Hub Adapter
Satechi
amazon.com
$39.99
If you like the modular, snap-on design of the Anker USB C Hub but own a PC, this Satechi hub has you covered. It expands your device's USB-C port into an array of three USB-A ports, and two SD ports (although the SD and microSD ports cannot be used simultaneously). It's a highly affordable way to connect several USB devices to a modern Macbook or laptop PC while saving on space.
It would be nice if the Satechi included Ethernet, HDMI, or another display port option, but the price is competitive for what it provides. 
Modular, "snap-on" design
Three USB ports
No HDMI, VGA, or Ethernet
Can't use both SD slots simultaneously
10
Most Affordable with 4K
MOKIN USB C Hub HDMI Adapter
This MOKIN hub is a highly affordable option if you're looking to connect some USB devices or a high-res display to any USB-C device—Mac or PC. 
For less than $20 it delivers more than most competing USB-C hubs offer, including two USB-A ports, SD, microSD, and HDMI. That will allow you to connect a 4K display, as well as a couple USB devices.
It comes in a very slim package that's ideal for travel, but the lack of an Ethernet port means gamers and other speed-oriented users will have to look elsewhere. That said, it's a cheap and elegant, no-frills solution for USB connectivity.
Very affordable
HDMI/4K compatible
This content is created and maintained by a third party, and imported onto this page to help users provide their email addresses. You may be able to find more information about this and similar content at piano.io
Advertisement – Continue Reading Below